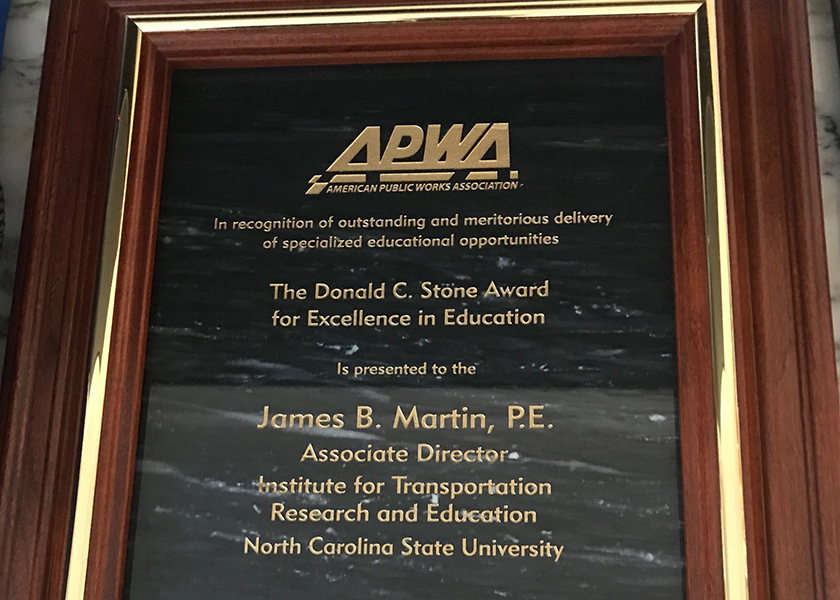 The Donald C. Stone Award for Excellence in Education (Individual) was established in honor of Donald C. Stone, founder of APWA. The award recognizes outstanding and meritorious achievement of individuals assisting in the areas of continuing and graduate professional education for public works professionals.
James B. Martin is Associate Director of the Institute for Transportation Research and Education (ITRE) at North Carolina State University (NCSU) in Raleigh. He is also Director of the North Carolina Local Assistance Program (NC LTAP) and the North Carolina Airport Technical Assistance Program (NC AirTAP) located at ITRE. A registered Professional Engineer, Martin holds bachelor's and master's degrees in civil engineering from NCSU. He is active in APWA at the state and national levels, and also serves on several Transportation Research Board committees including Maintenance and Operations Personnel (AHD15), Environmental Analysis (ADC10), and Ecology and Transportation (ADC30). Martin has been both an LTAP instructor and program administrator at the state, regional and national levels for more than 30 years, and has served as NC LTAP Director since 1990. Throughout his tenure with LTAP, he has contributed greatly to the professional development of public works employees in North Carolina and the nation. NC LTAP is one of 59 LTAP centers nationwide established by the Federal Highway Administration (FHWA) in 1982 to help local agencies tap into new technology, information and training so they can operate more efficiently and safely. Martin was instrumental in bringing LTAP to North Carolina in 1986 as one of the first state centers to be organized.
Click here to learn more about LTAP or register for one of their classes.