The Institute for Transportation Research and Education (ITRE) is an institutional center at North Carolina State University. Chartered by the North Carolina General Assembly in 1978, we conduct surface and air transportation research, training, and technical support activities. ITRE works across various modes of transportation to provide capacity and expertise for municipal, state, federal, and international clients to address critical transportation issues. Prior to transitioning administratively to our current home at NC State University in 1992, ITRE existed as the University of North Carolina Institute for Transportation Research and Education.
Today, our expertise covers numerous travel modes and services that reflect the ever-evolving nature of the transportation field. Our staff and partners operate with a "people-centered" lens that recognizes the holistic nature of transportation and the many ways that people are impacted by transportation-related decisions. We work across disciplines with faculty and private industry to provide valuable deliverables to our sponsors and the community. Through our work, we are proud to mentor approximately 100 undergraduate and graduate students annually, providing them with rewarding professional experiences.
Read our 2022 activity report:
Our Mission
To lead the way for efficient, sustainable, and people-centered mobility through collaborative research and education.
Our Vision
Shaping a safer, smarter, and more accessible transportation future.
Our Core Values
Dedication – We are committed to excellence and producing quality deliverables that have a positive impact on communities.
Collaboration – We believe that interdisciplinary teams deliver better outcomes and are committed to promoting an environment that supports cooperation.
Growth – We affirm the value of continuing education and seek to continually improve ourselves.
Integrity – We seek to be an impartial source of expertise that reinforces trust and serves the public good.
Innovation – We aspire to be a leader in developing creative applied solutions that meet tomorrow's transportation needs.
Diversity- We strive to employ a multicultural workforce and to incorporate the perspectives of individuals from all walks of life.
Adaptability – We aim to be flexible to address the changing landscape of transportation with proactive responses.
Our Strategic Goals
ITRE's Strategic Plan for 2022-27 highlights the following goals:
Be A Leading Technical Service and Applied Research Provider in the State and Nationally
Serve as A Preferred Provider for Continuing Education and Training in the State and Nationally
Expand Our Reach Through Collaborations with Diverse Partners and Sponsors
Cultivate an Organizational Culture of Excellence and Innovation
Maintain a Consistent Institutional Brand That is Nationally Recognized
Learn more by reading our plan at: ITRE StrategicPlan.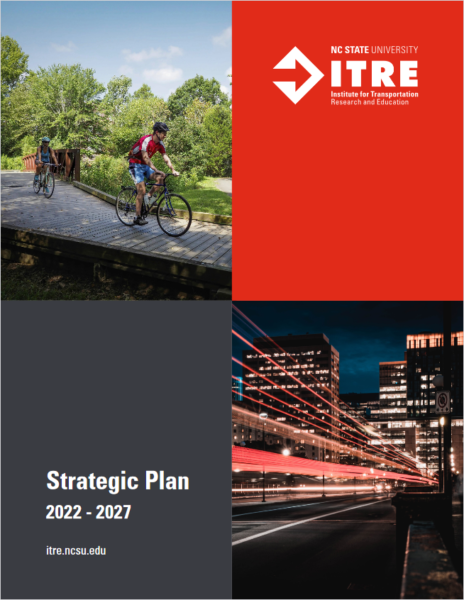 Our Advisory Council
The ITRE Advisory Council is a valued resource of transportation experts from the public, private, and academic sectors, providing guidance to the Director of ITRE and oversight for the Institute's programs and policies. The Council meets annually in the second quarter of the year.