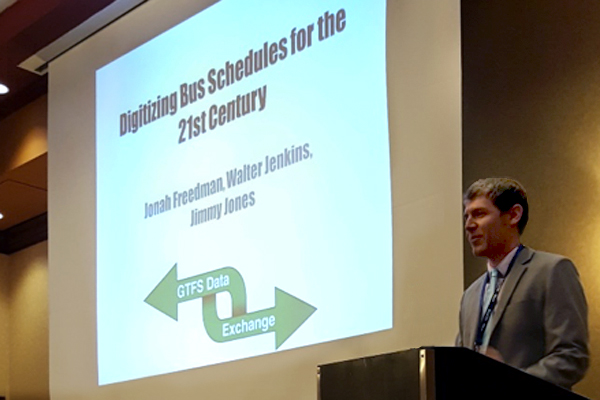 The Public Transit Group (PTG) at ITRE recently collaborated with Piedmont Area Regional Transportation (PART) and the transit technology company, TransLoc, to give a presentation on Google Maps Transit. Staff from the three organizations led a session on "Digitizing Bus Schedules for the 21st Century" in June at the North Carolina Public Transportation Association annual conference.
With the use of mobile phones and other Internet-connected technologies now commonplace, printed route maps and schedules are fast becoming an outdated method of informing transit riders. Online services like Google Maps are frequently used by travelers to get directions and plan their travel.
The General Transit Feed Specification (GTFS) format is an industry standard for capturing transit data used by Google Maps and many applications. A GTFS feed functions as the digital representation of a bus route, containing all pertinent data needed for Google Maps to display the route information.
Conference presenters Jonah Freedman of ITRE, Walter Jenkins representing PART, and Jimmy Jones of TransLoc, discussed the process of Google Maps Transit feed construction and the benefits of contributing this transit data to the worldwide transit community. Incorporation into Google Maps is a simple but important way for transit agencies to promote transit options for riders.
PTG is working with community transit systems across North Carolina to establish GTFS feeds for their fixed route bus services on Google Maps. PTG staff most recently assisted Polk County Transportation in adding its transit system data to Google Maps. The information is now available online and freely accessible to the general public.
Contact Jonah Freedman (jfreedm@ncsu.edu) at ITRE for more information on this topic.