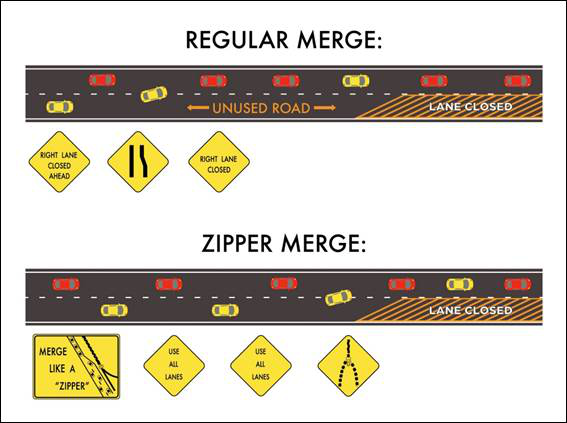 Researchers at ITRE have found that a new traffic treatment called a "zipper merge" has the potential to reduce traffic backups by as much as 50 percent in areas where there are lane reductions, or drop-offs. The North Carolina Department of Transportation is working with ITRE to determine if this new style of merge can be successful at a number of sites across the state, including NC-58 South in Carteret County before the bridge to Emerald Isle, NC, I-85 South in Durham County after the merge with NC-147, and on I-85 North at the work zone currently in place in Vance County, NC.
The zipper merge treatment encourages drivers faced with lane closures to work together and take turns entering where the lanes merge, to both reduce congestion for all vehicles and improve safety.
"While this goes against the grain of what we like to do as drivers, the zipper merge allows both lanes to be used to their full capacity," said Kevin Lacy, state traffic engineer. "With a little extra courtesy, we could greatly reduce the length of traffic jams, decrease travel times and increase safety."
The NCDOT is installing signs directing drivers to follow the zipper merge pattern. The signs ask drivers to stay in their lane until they reach a specified point. They then follow the directions of signs to make the merge. Drivers in the open lane are asked to take turns entering the open lane, allowing vehicles from the closing lane to merge in front of them.
Engineers at ITRE have already collected video and travel time data at the Carteret County and Durham County sites, and have recently installed cameras to collect data at the Vance County site. They will compare the data collected with and without zipper merge signage in place to determine whether the zipper merge was effective at changing driver behavior to reduce delays and increase safety.
Michigan and Minnesota are among several states that have implemented the zipper merge and have decreased the length of backups to create safer, smoother driving conditions. At one zipper merge site in Michigan, the congestion area was reduced from 6 miles to 3 miles and the time spent in traffic was decreased dramatically, saving drivers an average of 15 to 25 minutes.
During congested periods, the NCDOT urges drivers in these areas to be extra courteous to other drivers and understand that those in closing lanes are not simply trying to "cut in line" in front of drivers in the open lane.
"Cooperation with other drivers is the only way this will work. While this seems daunting, we are confident that a little southern hospitality can go a long way," said Chris Vaughan, ITRE research associate.