About
ITRE is assisting the North Carolina Department of Transportation (NCDOT) in the establishment of a statewide bicycle and pedestrian count program. ITRE, NCDOT, and local agencies are working in partnership to install and monitor continuous bicycle and pedestrian count systems on sidewalks, roadways, and shared use paths across the state. This program will evaluate facility usage over time, inform the project prioritization process, provide quantifiable evidence to support multi-modal Complete Streets policies, and improve municipal and regional active transportation planning. The program's resultant datasets can be used in planning tools to measure existing trends and model future non-motorized projections at the site, corridor, and regional levels.
2014-2015: Phase I, Pilot
The pilot phase of the NC Non-Motorized Volume Data Program was conducted in NCDOT Divisions 7 and 9 (the Piedmont Triad region) to test a bicycle and pedestrian count protocol and replicate the methodology across the state.  Twelve continuous count stations began monitoring bicyclist and pedestrian travel in late 2014. These stations cover a mix of sites across different land uses, travel patterns, and volume groups.  Detailed technical information can be found in the Phase I Final Report and Appendices. The following programmatic elements were piloted:
Agency Coordination
Site Selection and Procurement
Equipment Installation and Onboarding
Equipment Validation
Data Handling, Monitoring and Management
Equipment Maintenance
Data Reporting
Documentation and Datasets
2015-2016: Phase II, Expansion
Phase II of the project started in 2015 with expansion to NCDOT Divisions 4, 5, 8 and 10. Two additional shared use path sites in Brevard and Duck were installed in 2015 and continuous count stations were installed on roadways, sidewalks, and shared use path in Charlotte in 2016.
Documentation and Datasets
2016-2017: Phase II Continues
Phase II of the project started in 2015 and continued through 2017 with installations in NCDOT Divisions 4, 5, 8, and 10. Supplier issues resulted in lost data and the need to replace some systems. Stations where significant data was lost (greater than 90 days) are noted in the data report.
Documentation and Datasets
2017-2018: Phase II Continues, Data Reporting Updates Begin
Phase II installations in the CAMPO region were completed in Summer 2018. Efforts began to refine data handling processes including transitioning to an automated system for data quality assurance & control and moving data reporting to an online dashboard system rather than spreadsheet files.
For the first time, annual datasets will be provided through Eco-Visio 5 using its dashboard system. This system allows users to download tabular data, map counter locations, and analyze data using charts & graphs. This system allows users to access verified and validated data in a timely manner and in an accessible format. Historic annual datasets will be transitioned to the Eco-Visio 5 system beginning in Spring 2019.
Documentation and Datasets
We are pleased to share the 2018 NC NMVDP Annual Dataset covering the period from December 2017 to November 2018. For the first time, these data are reported through Eco-Visio 5 using its dashboard system.
Annual data are provided for counters that have been in place for a full program year (December through November). Based on the application of quality control, quality assurance, and validation procedures, invalid data have been removed from the dataset and correction factors have been applied. Documentation of data issues & their descriptions that led to the removal of data at specific counting locations are included for reference here.
The annual data stored and accessed in Eco-Visio 5 through the provided links are verified and validated. These data have been subjected to the NC NMVDP's quality control, quality assurance, and validation procedures and meet the criteria and standards of official NC NMVDP data. Invalid data resulting from equipment malfunction or other sources of error have been removed and site-specific correction factors have been applied to adjust for undercounting or overcounting that may have occurred at a site. These data can be used for official reporting purposes.
To access the dashboards, please use the following credentials:
Username: NMVDP_2018
Password: Public
Brevard
Brevard Greenway
Charlotte
Blue Line Trail
Elizabeth Avenue
4th Street Extension
North Tryon Street
Pecan Street
Selwyn Avenue
South Tryon Street
Stonewall Street
Tenth Street
University City Boulevard Sidepath
Carrboro
Libba Cotten Bikeway
Old Highway 86
Chapel Hill 
Martin Luther King Jr Boulevard
Davidson
Concord Road
Griffith Street
Main Street
Duck
Duck Trail
Durham
American Tobacco Trail – I-40 Bridge
American Tobacco Trail – Downtown
Greensboro
Elm Street
Lake Daniel Greenway
Spring Garden Street
Walker Avenue
Sanford
Endor Iron Furnace Greenway
Wilkesboro
Yadkin River Greenway
Winston-Salem
4th Street
Salem Lake Greenway
The Strollway
West End Boulevard
2018-2019: Program Evaluation Begins
Beginning in Spring 2019, ITRE will be evaluating the NC NMVDP as the program enters its sixth year. This will include gathering feedback from agency partners on all aspects of the program, including agency coordination & agreement execution; site selection, installation, & maintenance of the counters; and data processing, analysis, & reporting. Please stay tuned for more details as this effort commences.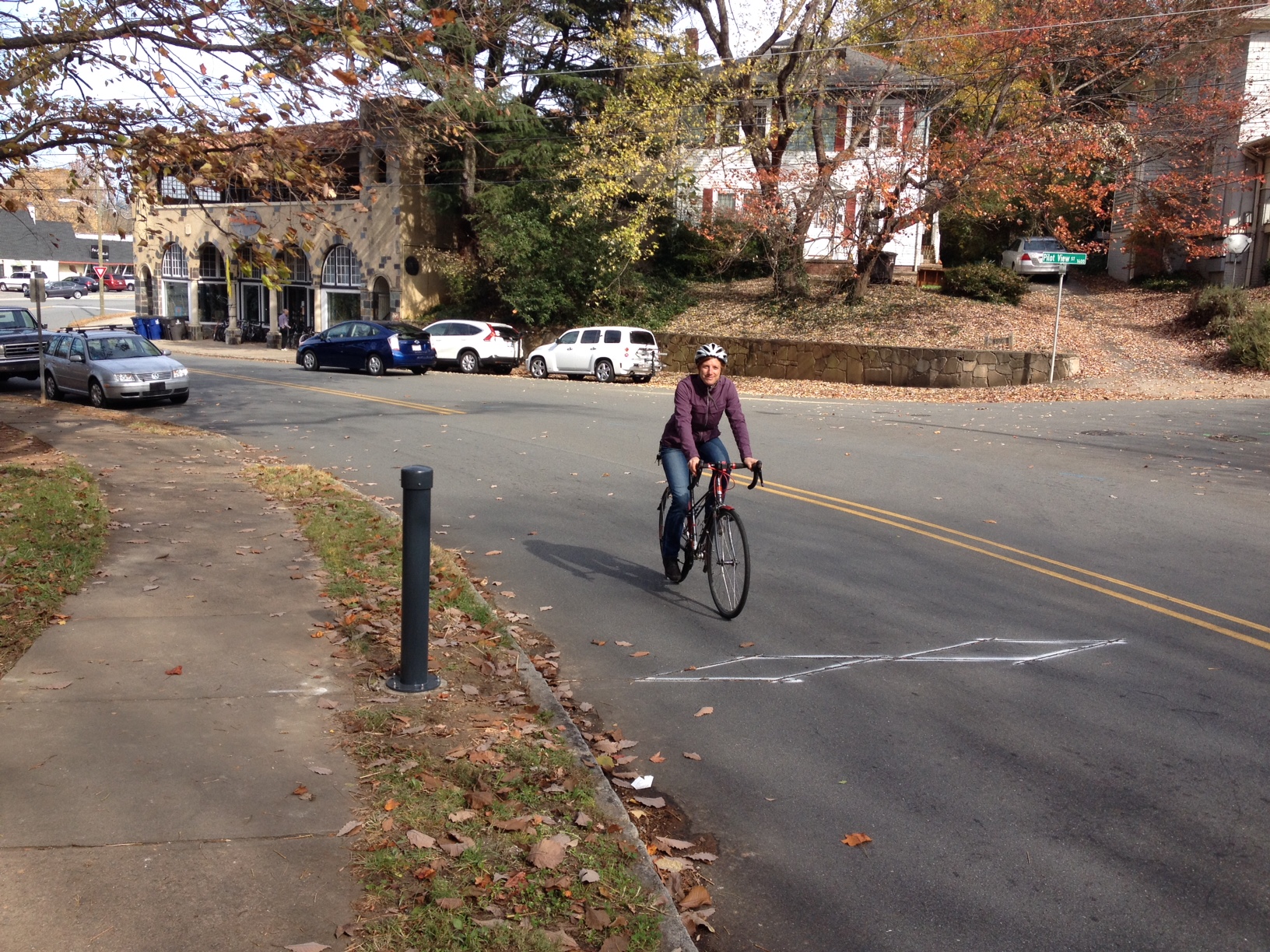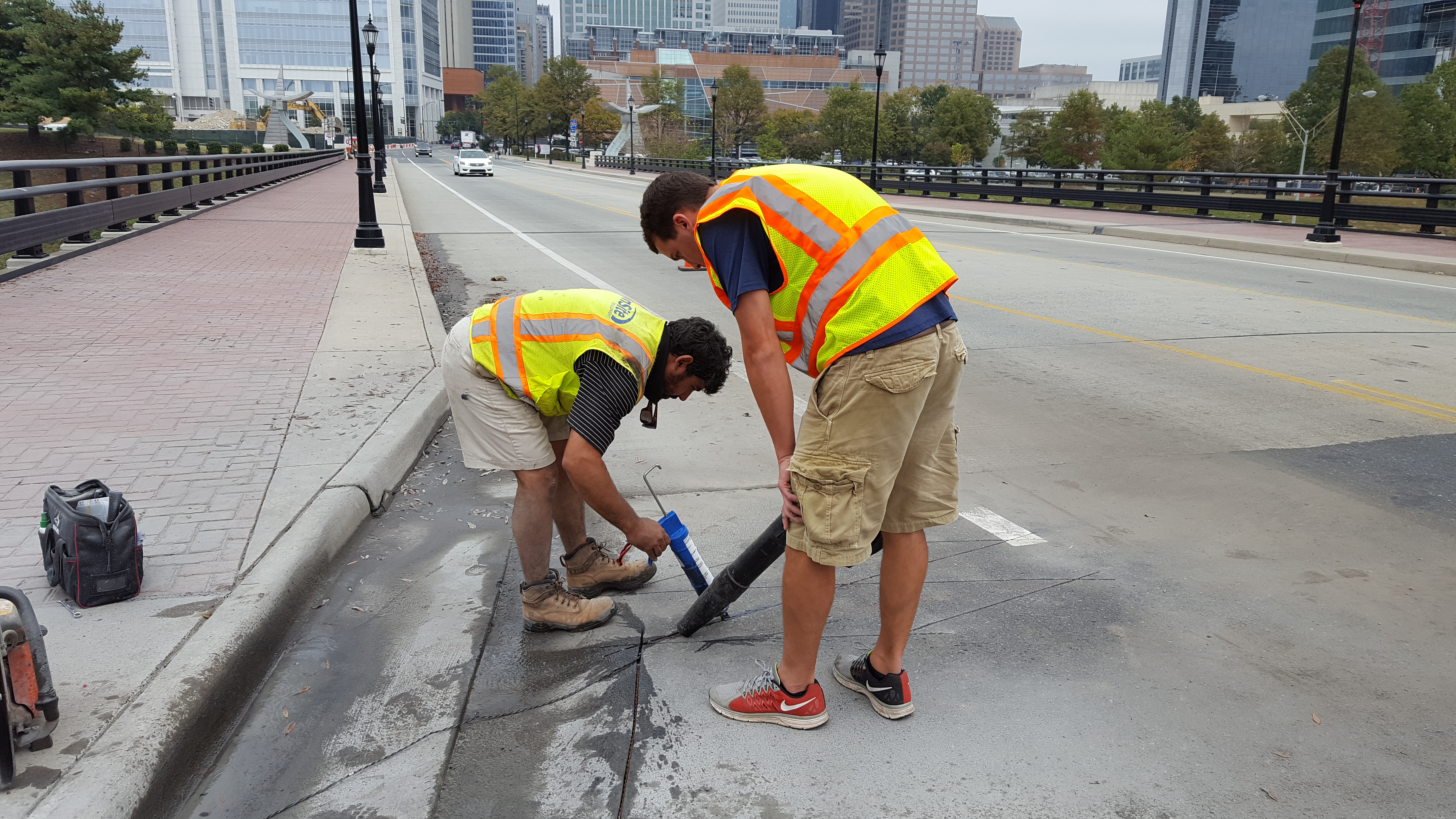 Additional Program Resources
Workshop:
Maintaining and Contributing to NC's Non-Motorized Volume Data Program
ITRE conducted a customized 1-Day workshop in bicycle and pedestrian counting prior to the kickoff of Phase II. This workshop was tailored to engage NCDOT Divisions 4, 5, 8 and 10 prior to initiating a regional site selection process. Staff from local and regional agencies within these Divisions were invited to attend the full day workshop. (6.5 PDH Credits)
The course was developed to give planners, engineers, and transportation professionals a solid foundation for maintaining and contributing to a non-motorized counting program being undertaken in North Carolina. The following topics were covered:
Introduction to the NC Program
Bicycle/Pedestrian Volume Data Fundamentals
Non-Motorized Counting Equipment and Installation
Data Needs and Uses
Site Selection Methods
Data Management and Reporting
The course included field visits to examine potential counting sites to inform participants on the basics of the site selection process.